Video Automation for Central Stations
Protect Your Customer With A Suite Of Interactive Services
MANAGED SERVICES
Immix CS for central stations provides the platform for your station to deliver a suite of high value, managed video and interactive services directly to your customers.
OPERATIONAL EFFICIENCY
IMMIX CS has the largest integration library in the industry and provides a single, central alarm monitoring interface for operators to interact with these systems in an easy and repeatable way.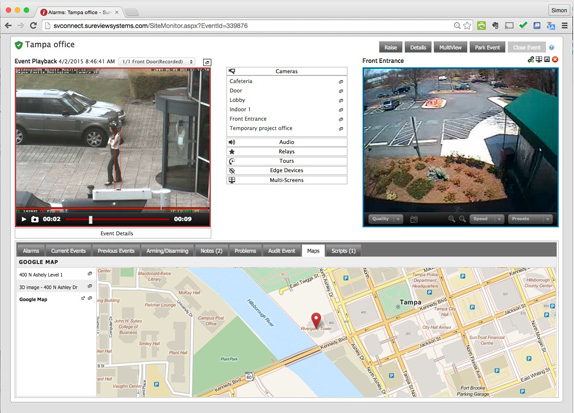 Immix® CS is a software product that operates in your Central station and consolidates a wide range of different security products into one simple operator interface.
Immix® CS is designed to help you deliver new video based services to your customers, build your recurring revenue and complement the investment you have made in your existing automation system.
Its proven to increase dramatically the efficiency of central alarm monitoring stations offering next generation video monitoring services.
Services You Can Offer Through IMMIX
IMMIX addresses the issues of running a complex security operation delivering:
Video Verification
Verify traditional alarm events with associated video to ensure a speedy response while reducing costly false dispatches
Guard Tours
Provide scheduled virtual guard tours, that step operators through each of the relevant onsite cameras. Like all Immix events everything the operator saw, said and did on the tour is audited in the Immix multimedia audit trail
Video Detection and Response
Using intelligent onsite video to proactively detect threats providing operators with the situational awareness to respond appropriately using audio and other prevention tools
Remote Access
Provide remote access for employees and authorized personnel to the customer facilities, verified with video and audited in the multimedia audit trail
Blended Services
Create your own type of service by blending alarms, video, audio and remote access into your own unique offerings
What's Unique About IMMIX CS?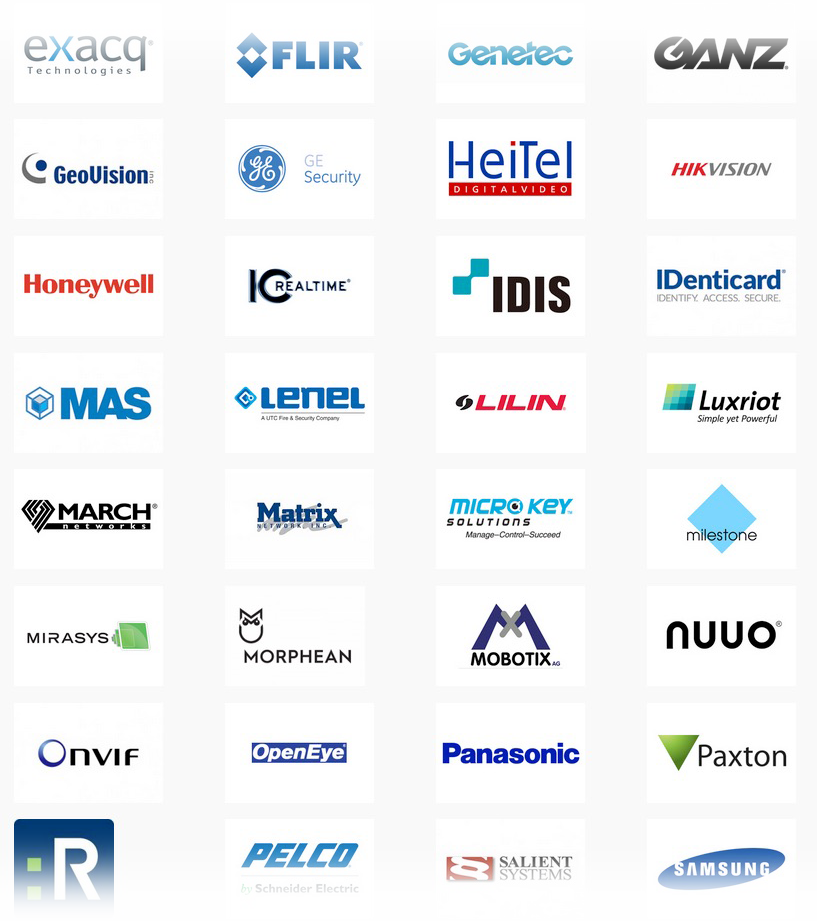 Immix integrates with more than 500 leading video, audio, alarm and GPS systems to deliver a single "pane of glass" user interface. This vast integration library allows your station to provide service across customers, supporting different devices from different manufacturers yet delivering a seamless service to your customer. We integrate with all these different devices and systems using our Immix API. This provides a standardization of functionality across disparate systems eliminating the high cost of developing, training and maintaining custom solutions. Learn More about our Integration Partners.
Immix connects to lots of different types of systems and devices, and the strength of Immix is its ability to mix the features and functions of these systems into one service delivery platform. For instance, you could create a remote guarding service for a parking garage where if a customer triggers an alarm for help with the ticket machine, Immix will receive and verify the customer via video. The operator will then open an audio channel on the intercom to talk to the customer to understand the situation, opening the gate via another system. Everyday Immix customers create new and unique services based upon the flexibility of the platform.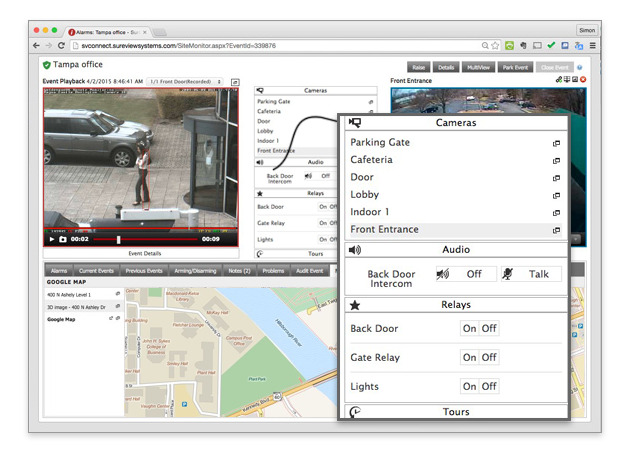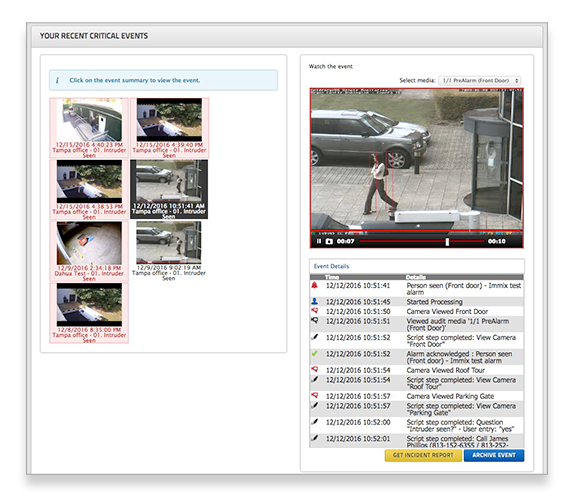 Immix records everything the operator saw, said and did while processing an event in Immix. This audit trail provides complete transparency for your operation, never again will you ask what did they see or do when they responded to an event. This audit trail can be shared securely with your customers, providing them the insight and confidence of the services you provide. This audit trail is available to be shared with back office systems, most commonly with your existing automation or reporting systems.
Immix is a 100% browser based platform providing the flexibility to create your own unique branded web portal. We have created a customer user role that provides your administrators the control to tailor the view you provide to your customers. This customer view can include access to the multimedia audit trail of event, live cameras, reports and dashboards and can be filtered to all their sites or just a single site – you control what they see.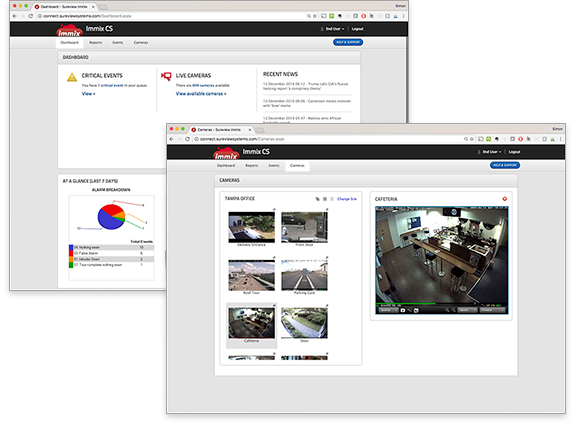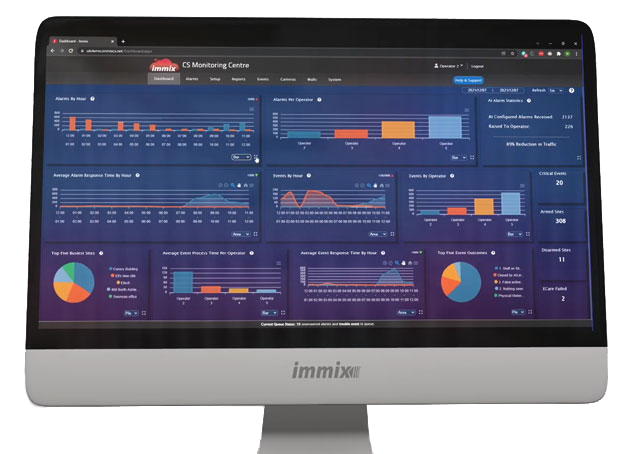 Immix Dashboard is designed for both the Central Station and Guard Force platforms. With a completely updated look and feel, the new dashboard delivers a robust and information-rich snapshot of all key metrics and statistics important to your central station, alarm receiving center or security operations center (SOC). Immix administrators and station/center/SOC management can now view real-time information and know "at-a-glance" exactly how their monitoring operation is performing at any given moment.
Customers Who Trust IMMIX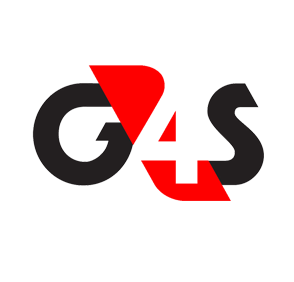 G4S provides interactive monitoring services using Immix from central stations in North America and Europe.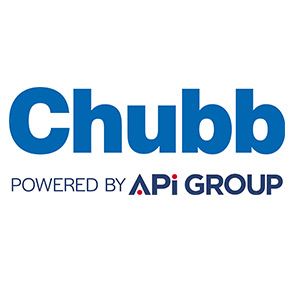 Chubb runs one the largest stations in the UK using Immix CS for their video monitoring and interactive services.

"Immix is Securitas' global technology partner for our Remote Guarding services and as we expand our offerings in the US market, in line with customer requests, we have looked to them to provide a managed services platform for our corporate customers. These latest developments allow us to provide additional technology and manpower solutions to the Protective Services industry. These services can range from basic alarm verification to interactive access control, and can be buffeted by the deployment of Mobile Guarding solutions. We can also provide the option to outsource temporary monitoring or an entire security operation center (SOC) to our state-of-the-art facility in Charlotte. By combining this technology with the expertise of our Protective Services team we can now offer an end-to-end service that is more flexible and cost effective than ever before."
Greg Abbott,
Vice President, Marketing and Training
Securitas USA

"We have been using Immix since we began offering video monitoring services over ten years ago. In that time they have consistently exceeded our expectations and provided us with the tools needed to support a number of different customers using a wide range of video products. It is because of their high level of support and easy to use monitoring platform that we have been successful in growing our video monitoring business year over year."
Brandon Niles,
Director of Operations
Acadian Monitoring Services

"Regardless of the product technology, the operator view is always the same. Everything the operator can see, and every action he takes, can be recorded and audited at a later date in line with police requirements. It also enables us to monitor system performance and manage staff levels accordingly."
Colin Walters,
General Manager
Chubb RVR

"The partnership with Immix has enabled us to provide our customers with a very friendly, slick looking web interface and allowed us to protect our customer assets without requiring their investment in a homogeneous hardware platform upgrades. The range of supported products is great, and new or improved integrations are coming out all the time. It is unique in the monitoring software marketplace."
Chris Blake,
Operations Manager
G4S North America

"Once Immix was installed, we were able to standardize on a single process which brought excellent efficiency savings. We were then able to grow our remote monitoring services by taking on many different types of connections and providing different levels of service for our customers."
Dirk Puylaert,
Security Manager
Securitas Alert Services, Belgium
Download our PDF brochure: Immix CS Overview