Allstate Security Industries, Inc.
Allstate Security Industries, Inc. is the largest and the oldest locally owned life safety and security company serving citizens in the Texas panhandle.

The Challenge:
Allstate Security Industries, Inc. is the largest and the oldest locally owned life safety and security company serving citizens in Amarillo and the Texas panhandle and well beyond for over 92 years.  Listed to install, service, monitor and issue U.L. Certificates for both burglary and fire alarm systems Allstate also has recently embarked on a new business endeavor to provide remote video monitoring and remote guarding services to clients.
The challenge that Allstate faced in entering this competitive space was how to effectively manage video signal traffic, known to cause much more frequent false and nuisance alarms, without disrupting the quality of service the company has always prided itself in providing to traditional monitoring customers.  In the past, the company would often have to turn down large video monitoring projects for one reason or another.  One of the most common barriers Allstate often faced was that the sites typically did not have sophisticated enough video equipment (i.e., advanced analytics) to adequately manage signal traffic (i.e., reduce false alarms) while, at the same time, not missing a potential threat.
The Solution: As video has exploded onto the market the rate of video false alarms in the central station has created paralyzing effects on growth and margin. Because of this a new approach was needed.  The advent of analytics and AI in today's center has evolved dramatically in the past few years.  The more established approach has typically been using analytic cameras or encoders at the edge and pushing alarms from those devices to the central station.  The problem Allstate faced with this approach is that many customers did not have analytic cameras in place or did not have the budget to include them in the quantities required to monitor large facilities like a car dealership, construction site or storage facility.  Allstate simply could not allow cameras triggering alarms on simple motion detection to be an accepted solution for its monitoring operation, but, at the same time, could not force a customer into making a hardware purchase well beyond their budget.
Allstate's in-house central monitoring station utilizes the Immix CS platform for managed and monitored video services.  In 2020 the most significant development that Immix made to its software platform was the addition of its embedded AI Link to enable AI Verification through AI technology providers on video alarm clips being sent to the Immix platform.
In Allstate's case, Immix AI Link is partnered with Evolon Technology's best-in-class machine learning AI algorithms.  Providing a layered detection and classification effect turned out to be the one-two punch that provided Allstate with an answer as to how to grow an effective video guarding business while keeping up-front hardware costs to the customer in line.
AI Verification is the process by which Immix receives a video clip triggered by any form of video detection or other alarming device that includes video footage.  That clip is then pushed to the Evolon Verify AI engine, which then filters and verifies that the threat detected is real and actionable based on a preset threshold Allstate selects.  If those necessary criteria are met, Immix then delivers that alarm and associated video to the Immix alarm queue for an Allstate operator to process and act upon.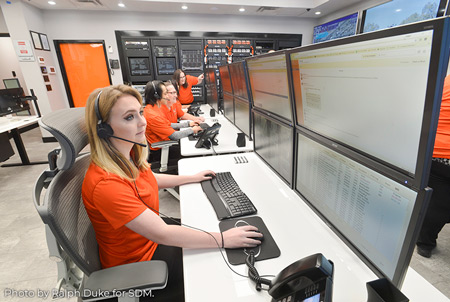 The Results: "This was an absolute game changer for Allstate when it came to building a hugely successful video monitoring business," said Allstate president Randall Renfroe.  "It has helped us grow in two ways: first by being able to keep up-front hardware costs in line for customers, it enabled us to more than make up for it on the back end with enhanced service levels that of course create more RMR and elongated contract terms.  Secondly, it has allowed us to gain new reseller partners by helping to bridge some IT and technology inefficiencies faced by some smaller integrators.  At least 5 new partners have come on board to resell our video guarding services because of the Immix/Evolon AI Link."
Renfroe also adds that, while Allstate has not yet done a comprehensive analysis on the metrics, he estimates his center has seen at least a 75% reduction in false and nuisance alarms since employing the AI Link solution.  He cites an example in which the Immix AI Link processed 1026 alarms in a one-hour period and deemed 987 of those alarms to be false and, thus, were never presented to an operator for processing.
Allstate was recently awarded a contract to monitor 28 car dealerships, a success story that Renfroe says is 100% due to the capability of the Immix/Evolon AI solution.
"This was a deal that was actually worked out in partnership with some of our local competitors who simply could not provide an effective solution to service these facilities.  Through Immix and Evolon's solution we were able to dramatically cut costs on the installations and are able to do all camera detection adjustments remotely, reducing truck rolls for the integrator, saving time and money and allowing them to focus their people in other areas where they are needed."
The Immix/Evolon AI Link solution enables margin uplift for central stations by reducing signal traffic and labor costs while enhancing operational efficiency in the center which can be leveraged to offer new services to the existing client base.
In addition, the solution has proven to help with labor retention and job satisfaction for employees.  With more accuracy there is much less of the "cry wolf" effect that afflicts many high-volume video monitoring centers.  The Allstate staff is only working actionable activity making for a greater feeling of impact and success as well as greater long-term retention for the staff.
In closing, Renfroe states that, "AI Link has changed my business on an order of magnitude.  The solution is literally the difference in me adding thousands of cameras to my business every month instead of hundreds."
More Customers Who Trust IMMIX
WANT TO LEARN MORE ABOUT HOW IMMIX CS COULD WORK IN YOUR ENTERPRISE?
Request a meeting & demo with our team!