National Video Monitoring Corporation
National Video Monitoring Corporation Deploys SightLogix in Immix to Reduce Nuisance Alarms and Increase Operational Efficiency and Profitability

Background:Established in 2007, National Video Monitoring (NVMC) is one the largest and oldest focused-providers of live video monitoring in the United States. The company provides both a direct sale and installation offering, as well as a channel partner program across the U.S. In 2017 alone NVMC issued more than 5,000 police reports, saving customers an estimated $20,000,000 in potential losses.
The Challenge: Those successes aside, the company has long struggled with the same primary issue that plagues all video monitoring providers, excessive nuisance or unwanted video alarms. Nuisance alarms typically come in two different forms: false alarms triggered by camera technology that mistakenly detects animals, weather, insects, trees, flags, shadows and a myriad of other object movements, or false-positive alarms that detect human or vehicle activity on site, when in fact that activity is actually authorized and thus, should not be something the monitoring center should receive or have to process.
The second scenario is, in most cases, a communication issue or something that can be addressed in advance through proper protocol setup during the discovery and on-boarding process. The first, however, can only be addressed through improved technology and programming of that technology. This was the challenge that NVMC sought out to address as they looked to reduce signal count and improve both operational and cost efficiency in 2018 and beyond – a factor that is mission critical to their success given their focus on keeping a competitive, U.S.-based command center as compared to many of their competitors who have shipped these services overseas.
The Solution: NVMC faced considerable cost concerns from both a labor and materials standpoint that needed to be addressed to best utilize its staff and maximize its overall performance.
"We did a deep dive on our alarm counts, operator response times, processing times and countless other metrics," stated Markus Scott, President and "Chief Guard Dog" of National Video Monitoring Corporation. "Reduction of false alarms and covering more ground with few cameras quickly presented itself as the right solution, so we started looking for different cameras that could cover larger areas that also had enhanced analytics. The catch was that these cameras had to be at a competitive price point."
A large portion of NVMC's customer base consists of outdoor environments with all or most of these common characteristics:
Large visible perimeter lines
High value inventory or assets
"No fly zones"
Limited detection opportunities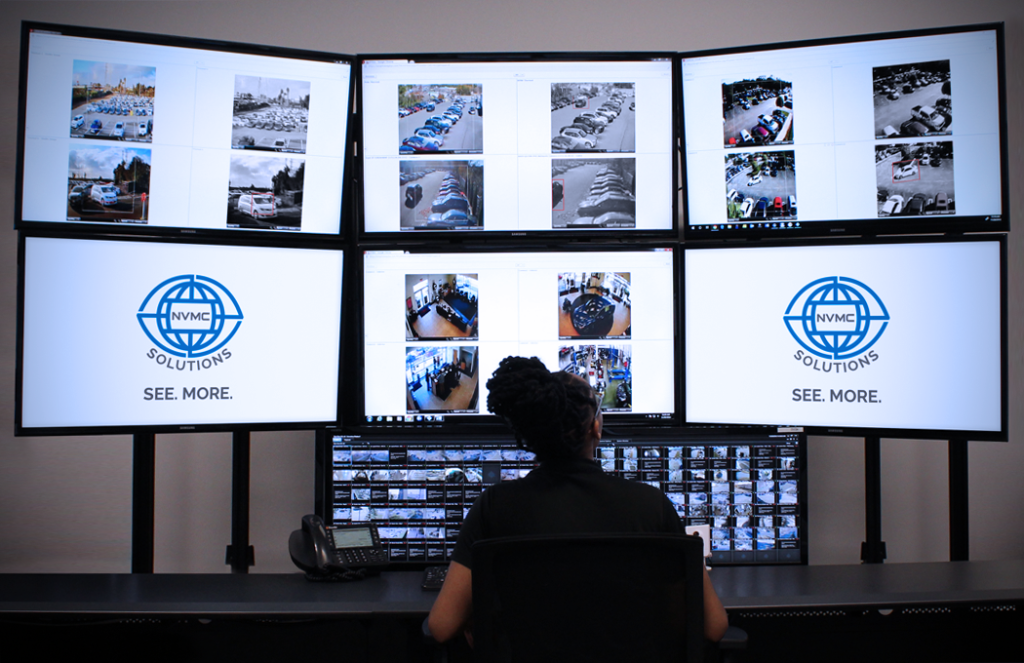 Because of these factors, NVMC decided to look at thermal solutions with with advanced, real-time visual intelligence, as well as compatibility with the Immix CS platform – NVMC's preferred automation platform for video monitoring. That left few options on the table that also met one of the company's most important criteria: a competitive price point.
"We basically had three options to address excessive signals with regard to our current and potential growth as a company," says Scott. "We could hire more people and negatively impact our competitiveness; outsource monitoring overseas and simply throw bodies at alarms; or we could use technology and to keep our growing job opportunities in the U.S. under one roof. We knew the right technology was out there – we just had to find it at the right price."
After an exhaustive testing and vetting process, NVMC selected SightLogix as its preferred camera solution. SightLogix is a manufacturer of smart thermal cameras with onboard analytics for intrusion detection and PTZ tracking capability for visual intelligence. The cameras can detect at three-times the distance of standard HD cameras; thus, allowing for the deployment of fewer cameras in the field and fewer cameras needing to be monitored in the command center.
Credible alerts are the foundation for reliable intruder detection. Too many nuisance alarms and you quickly lose trust in the system and lose efficacy of services. SightLogix incorporates a high degree of processing power inside its cameras that filter the effects from wind, lighting, precipitation, moving clouds, shadows and vibrations from causing nuisance alerts. Thermal cameras combined with video analytics detect intruders reliably over the large distances typical of a perimeter security application while ignoring all the problems that trigger false alerts – making them a true 24/7 intruder detection solution.

The same processing that provides intruder detection accuracy also provides for increased coverage area, leading to fewer cameras and less infrastructure needed for securing large-NVMC perimeters. This means fewer poles, power, and communication, which can easily be the most expensive part of an outdoor system.
"The SightLogix solution met all of our needs," says Scott. "It provides reliable detection through a reduced device footprint, while providing visual intelligence through its PTZ tracking capability, all at a fair price point. The other critical factor for us is that it is integrated and easily programmable with the Immix CS platform, which sets the standard for our industry as a video-focused automation platform that allows us to integrate easily with the myriad of other products we deploy to provide best-in-class industry solutions."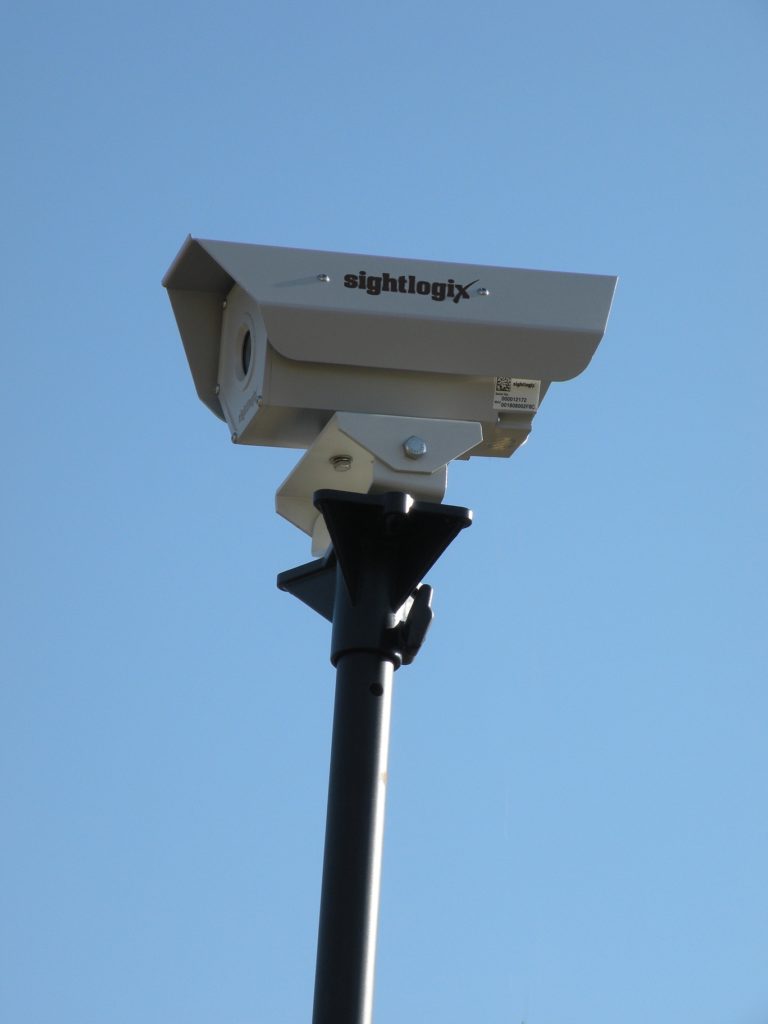 The Results: Since deploying the SightLogix solution, in conjunction with the Immix platform, the results have been staggeringly successful.
"In addition to lower costs for our customers, the reduction in nuisance alarms has been on an order of magnitude," says Scott. NVMC has posted a 75% reduction in false or nuisance alarms through the SightLogix solution, a rate as high as a 35-1 comparison over one competitor, 10-1 over another and 8-1 over yet another well known-provider – all results of the exhaustive vetting process mentioned previously.
"We are extremely proud of our partnership with National Video Monitoring Corporation," says John Romanowich, President and CEO of SightLogix. "Markus Scott and his team are very transparent with us in sharing their needs so that we can continue to improve our products and performance to meet their expectations and ultimately make this a very fruitful, long-term relationship.
Since implementing this solution, NVMC has achieved remarkable success in both increased apprehensions and deterrents, as well as maximizing internal efficiencies from both a cost and operational standpoint.
"The impact this solution has had on weather or environmental related alarms has been enormous," continued Scott. "The false alarms have all but disappeared, but we are still able to detect even something a brief as a head poking around a corner in heavy rain, allowing us to mitigate risk immediately. Now we can confidently detect and deter in any condition and keep our customers protected at all times."
In addition to saving on installation costs (fewer cameras, less infrastructure) and monitoring costs (fewer cameras sending fewer alarms), NVMC is also realizing added savings with edge processing that allows cameras to send alarms directly to Immix. This keeps bandwidth restraints at a minimum and costs considerably less than server-based solutions.
This is achieved through the SightLogix WebConfig tool, which makes it easy to integrate SureView's Immix software with SightSensor detection cameras. Key features in WebConfig include easy-to-use drop-down fields for defining Immix settings, creating pre- and post-trigger video clips that are automatically sent to Immix along with live video, and testing connectivity with one-click alarm simulations. WebConfig also provides a range of innovations to streamline the setup process, allowing users to calibrate cameras, configure key parameters and create accurate video analytic detection rules quickly and easily.
"Our collaboration with Immix provides a rapid, proactive response for managing security, and WebConfig enhances our integration by greatly reducing configuration time," says Romanowich.
The Summary: In summary the solution outlined, coupled with the positive results, prove that using the right technology is the most cost efficient and operationally effective method to improve performance for remote video monitoring providers.
NVMC has grown from 35 to 120 employees in just 3 years and now has plans to open an additional 20+ sales offices across the country in 2019 alone. All of this, according to Scott, is attributed to having a great team and partners that are dedicated to investing in mission-driven technology that enables best-in-class service.
"What this blended solution has done for us is allow us to be at the forefront of efficacy in our industry, drive margin and importantly provide our services from right here in the US – speeding our response times and keeping needed jobs here," said Scott.
More Customers Who Trust IMMIX
WANT TO LEARN MORE ABOUT HOW IMMIX CS COULD WORK IN YOUR ENTERPRISE?
Request a meeting & demo with our team!